Responsive website is the current standard for modern web design. And an absolute must have, for website owners. But what is it exactly and what do you need it for? Read on to find out.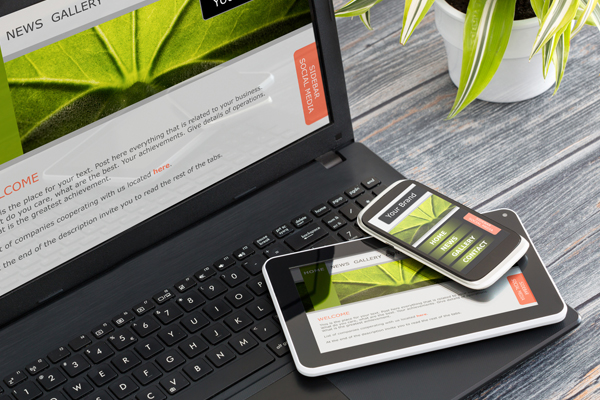 Responsive website
A responsive website is built with Responsive web design. It displays your website well on all devices- from desktop or laptop to mobile phone and tablet. As it allows to view desktop web pages in response to:
It recognises the:
Device: the device currently showing
Screen size : the width of its display.
Web browser: the web browser a visitor is using.
Based on this, a responsive website automatic adjusts its content. As a result, pages are clear, comprehensible and pleasant to read from any device.
What you need it for?
For a long time people viewed websites from desktops or laptops. With the rise of mobile devices- mobile phones and tablets- this has changed. November 2016, the number of searches from mobile devices exceeded searches from the desktop. Since then, more people prefer to search information from mobile devices.
Mobile friendly websites
This trend is here to stay. Customers tend to search more and more across different devices. For any search query, they start from one device and end up purchasing a product on any other. This influences the way websites are built.
TIP: November 2016, Google introduced its Mobile First strategy. This strategy favours responsive websites in their indexing process.
Mobile requirements
A mobile friendly website is an absolute must have, for it:
helps websites to become more visible
increases website traffic
helps web owners putting their website ahead of competitors.
Yet, such sites need to meet several requirements:
Mobile visibility: visible on all mobile devices.
User-friendliness: easy to use and search on.
Mobile purchases: supply mobile purchases.
Web sites that lack such requirements, will lose web visitors. As competitors are only a few clicks away.
How to build a mobile-ready website?
There are three ways to make a website mobile ready:
Mobile Apps First, develop a mobile app, through which people access your site content. The competition is fierce. And only a few people will download your app to their phone. Give lots of added value. In this way, your mobile app will be interesting for your (potential) customers in the long term.
Customised Mobile Website Second, create a new website version, customised for mobile devices. An expensive solution that requires lots of work. Instead of one website, you will have to take care of two: a desktop version and a mobile version.
Responsive Website Third, create a responsive website. It flexibly adapts to the device, screen size and web browser which it is being viewed from. Often, this is the best and cheapest option. It involves one sole website. Internet Server Providers offer mobile sitebuilder solutions for sites and e-commerce.
TIP: Follow Google's Mobile First Strategy to build a website that displays well on all devices. Start to build it for Mobile (the smallest screen resolution). And continue to build it for Desktop (the largest resolution). If you start with a Desktop version, it might not fit on the small mobile screen.