Secure communication between the web server and end users becomes a standard that is not advised to be overlooked. In addition to security itself, it also has a fundamental influence on the visitors credibility and also affects search engine rankings. How to correctly set up HTTPS (SSL) on WordPress?
It has already been written quite a lot on the increasing importance of a secure connection. Google has a major influence on the standard. Since July 2018, Google Chrome alerts users of all sites that do not have an SSL certificate installed and denotes them as "Unsecured," which can discourage users from further visits. Web site operators should be alert - Google Chrome, with its over 61% market share, is the dominant browser that most Internet users use.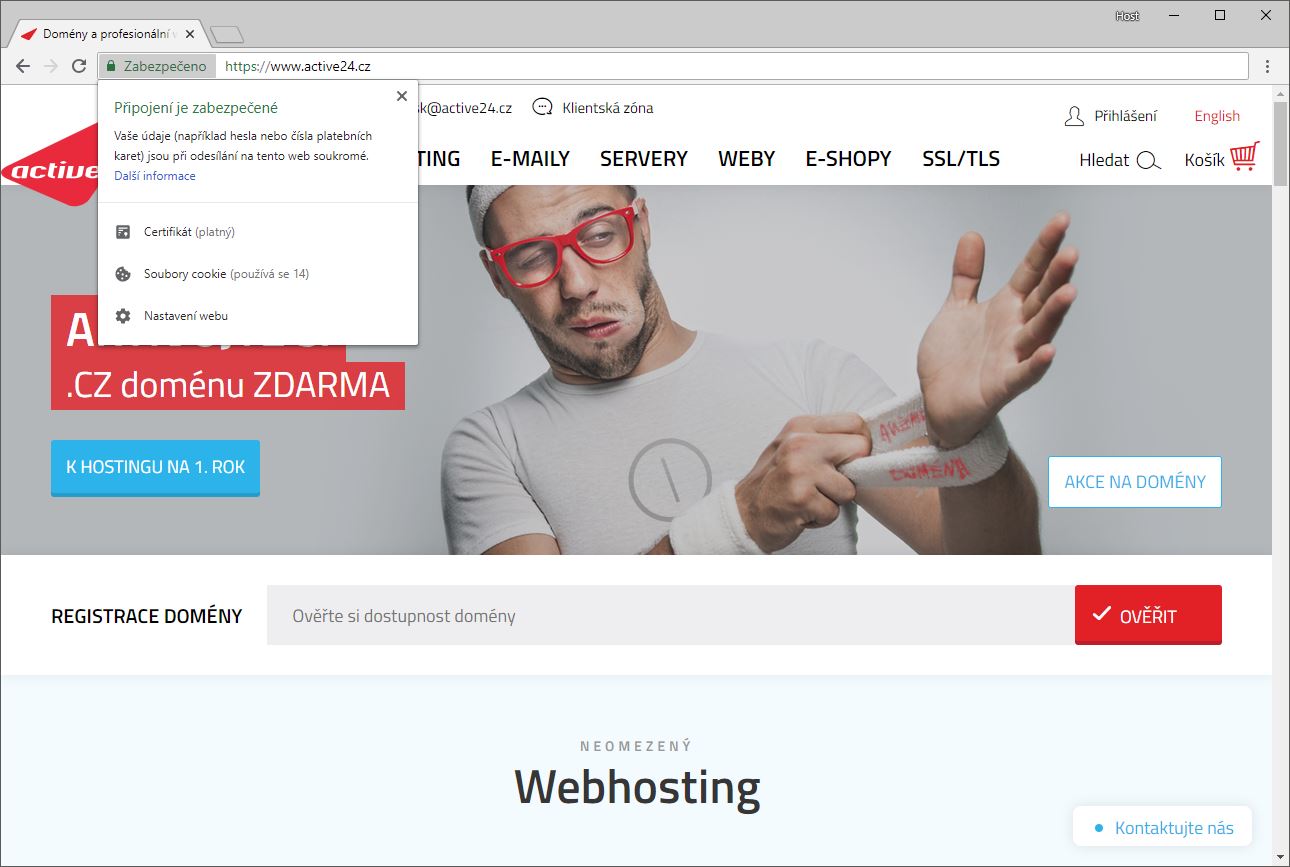 ACTIVE 24 offers a free auto-SSL functionality to all shared web hosting sites running on Linux. A world-renowned SSL certificate Let's Encrypt is installed on servers, thus avoiding concern with the selection and installation of the certificate. This step makes hosted sites available through secure HTTPS, which protects visitors from fraud and third-party attacks.
For everything to be 100%, it's still necessary to make settings in the WordPress editorial system itself. Thanks to a handy plug-in, these are a few steps that even a less-skilled user can handle.
Really Simple SSL: How to convert pages to HTTPS easily and quickly?
Alternative certificates with higher credibility are available for a fee not exceeding one thousand CZK. They are suitable for all pages requiring a higher level of security that they need to point to their credibility, such as using card payments. Instructions for installing an alternative SSL certificate for Active 24 can be found on SSL/TLS certificates and HTTPS.
Because the certificate is installed to ACTIVE 24 web hosting, you can go straight to the HTTPS redirect setup. The free Really Simple SSL plugin offers the necessary features to quickly set up a certificate and a secure connection. The advantage is that everything happens automatically, including the detection of so-called mixed content errors where part of the content is transmitted securely and not part of it.
To set up proceed as follows:
Navigate to the WordPress Content Management administration site and select "Plugins" > "Plugin installation".
Search for "Really Simple SSL".
Select "Install" and activate plugin right away clicking the "Activate" button.
Proceed to "Settings" > "SSL"
The information that SSL has not yet been activated is displayed. There is nothing to worry about. To activate, just click on "Go ahead, activate SSL!"
You will receive a confirmation that SSL is active and your site is now secured with an SSL certificate.
7. You can verify active SSL in a browser where you should now see a message at the address line "Secured" and before the address you now see https:// instead of http:// https://.
The plug-in automatically checks the SSL certificate and sets WordPress to automatically use https in the URL. All necessary redirection set up from HTTP to HTTPS will be done an alert to HTTP content will be made if it needs to be corrected. You can verify the correct settings for your site in the address bar. Any online correction problems are detected by the WhyNoPadlock.com online test, that verifies the correct SSL settings.